KNUST hosts Visiting Prof. Samuel Adu-Prah
Wed 28 Jul 2021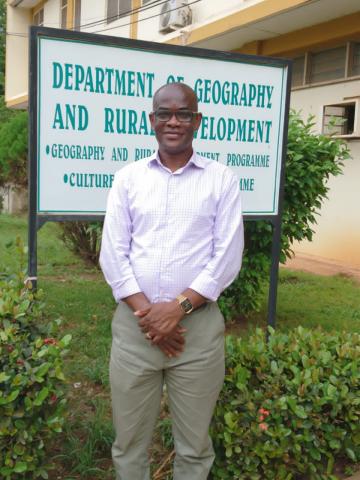 The Department of Geography and Rural Development, together with the support from the Carnegie African Diaspora Fellowship Program is delighted to host Prof. Samuel Adu-Prah as a Visiting Professor from June – July 2021.
Prof. Samuel Adu-Prah is an Associate Professor from the Department of Environmental and Geosciences in Sam Houston State University, Texas, USA. Prof. Adu-Prah has expertise in Geographical Information Science (GIScience) and environmental modeling with related interests in spatiotemporal data mining, GIS and public health, and remote sensing of the environment. He is currently the president of the Africa Specialty Group of the Association of American Geographers (AAG). He is also the editor-in-chief of the International Journal of Applied Geospatial Research and a member of the Ghana Journal of Geography editorial board.
Prof. Adu-Prah is highly regarded for his work in GIS and public health in Africa and the United States. While here, he is teaching GIS related courses to both undergraduate and postgraduate students, strengthening teaching and learning capabilities, and providing support for research and securing research grants.